3 Steps to Building an Integrated Control Room with a Seamless Visualisation Experience
Posted on January 31, 2022
Share post:
Increasing productivity and efficiency in today's modern control room begins with building an integrated control room, where operators can focus on their mission and not on the technology. The challenge is being able to display the relevant combination of information in the right place at the right time on the video wall, the operators' desktops, in a crisis room or a director's office. Having all systems and applications interoperable and controlled from a single unified platform is the key to creating a seamless visualisation experience. This article describes how to do just that.
Creating the Most Efficient and Reliable Modern Control Room
The primary purpose of a control room is to provide a central space that can effectively monitor and control complex systems, whether it is a large industrial process control application, a complex transport network or a command centre for emergency services.
For the most effective operations, control room operators must have up-to-date information that is accurate and complete. That data must be presented to them in a clear and logical way, in a layout that can be changed quickly as needed so that they can respond rapidly to changing situations and emergencies.
Modern control rooms generally include a large video wall for common access and visualisation of data and group analysis, coupled with individual workstations. These workstations typically have the same data as the large screen along with additional information, allowing specialist operators to extract the additional information required for their specific roles.
To achieve this, it is imperative to select the right technology that allows the combination of both elements (video wall and operator workstation content) to be managed by a single system in an integrated and flexible solution.
Here are the three critical steps to achieving the ultimate integrated control room installation:
Select the right video wall displays & video wall control system
Select the right workstation and switching technology
Ensure a seamless integration between the video wall and workstations
1  Large Video Wall & Control System
The first step is to select a high performance and flexible large screen video wall and control system.  It is important to choose a video wall that can display high quality images and data, offers a thin-bezel or no bezel (LED) design, is modular for scalability and delivers a great viewing experience in various lighting conditions.
There are various manufacturers that can offer such high-end displays. A great example is Samsung's The Wall, a proven next-generation MicroLED display that is redefining the industry with a one-of-a-kind visual experience. The Wall brings superior colour purity with innovative colour enhancing Ultra Chroma Technology, a perfect black presentation with Black Seal Technology LED HDR and HDR 10+ support for optimum peak brightness and accurate grayscale expression. It is a real game changer for control rooms. In July 2021, Samsung certified VuWall's VuScape video wall controller as the first to ensure a seamless interoperability and optimized visualisation experience. READ PRESS RELEASE
Video Wall Processing (a.k.a. Video Wall Controller or Video Wall Node)
It is equally important to select the right processing system to maximize the usage of the video wall. Selecting the optimum solution is key to ensuring that operators can see what they need to see, when they need to see it. The most critical characteristics to consider are reliability, scalability, and ease of use.
Reliability: A video wall control system is expected to be operational 24/7, while the quality of the control system is important, verifying with what level of built-in redundancy this system comes will ensure the highest availability of your video wall.
Scalability: A control room is a major investment and a place where requirements and technology evolve constantly. Look for a video wall control system that will be able to scale as the needs of the control room evolve (increased number of sources, new source formats, additional displays, interoperability with adjacent crisis room, etc…)
Ease of use: The purpose of a video wall is to be able to bring together the relevant visual information from a multitude of sources and help decision-makers make informed moves in crisis situations. A complex software to manage the video wall will definitely defeat this purpose. But the ease of use does not stop at the software level the simplicity to configure and maintain the system is also important as it will help supervisors to easily configure and adjust scenarios as often as they need to, without having to call a programming specialist.
VuWall's PAK video wall control nodes offer a simple, scalable and reliable solution for mission-critical operations. PAK delivers high-performance video processing and can easily control and manage any source to any display, offering the utmost flexibility and scalability with an easy-to-use drag-and-drop interface with a full-featured video wall management software.
Video Wall Management Software
In addition to the performance and processing power of the video wall controller, it is often the software that resides on these controllers that makes all the difference. There are many comparable video wall controllers out there, but it's their software that differentiates them the most. The software is what determines the user experience and how productive control room operators will be. The most critical consideration for selecting the right video wall management software is interoperability; a platform that can route virtually any source type to any display and is compatible with third-party devices so that a single interface can be used to manage all devices on the network. Ease of use is another critical component; software that offers easy drag-and-drop operations both to configure and to operate the video wall.
TRx is VuWall's centralized management platform – the only true interoperable platform that provides both AV-over-IP distribution and a fully-featured video wall management software. TRx even includes a control panel designer to create customized HTML-based control panels to facilitate day-to-day operations, all without any programming required.
2  Workstations & Switching Technology
Selecting the optimum switching solution is crucial in control rooms that must provide operators with the information they need when they need it. Providing operators with the correct information from a vast array of different sources can be challenging, but thankfully, this challenge can be overcome with the right technology.
Accessing the Right Information
With an increasing amount of data and visual information, an effective control room demands a system that unifies and routes information effectively so that each operator can select the most relevant data and easily control remote computers to accomplish their tasks.
KVM Matrix Switching for a Flexible Connection 
One of the most efficient and flexible ways to achieve this is with a KVM (keyboard, video, mouse) switching system. Typically, the computers and source devices supplying the data that operators need to observe is located at a distance from the operators in a secure server room with a controlled environment. Access to those computers is possible using KVM extenders, an integral element of the switching system.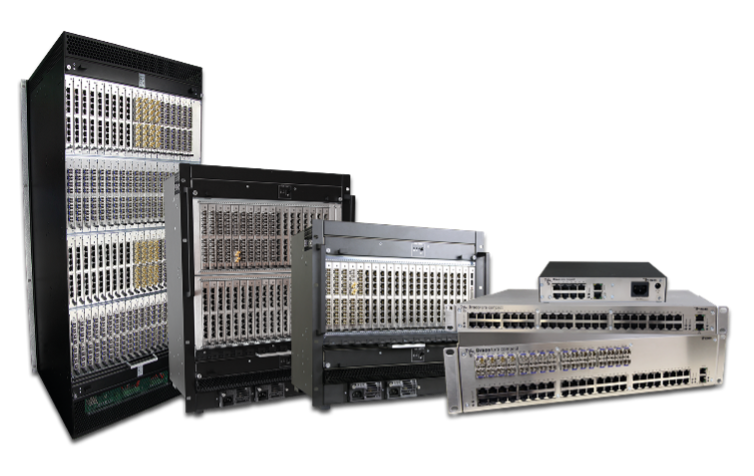 At the centre of the KVM system is a matrix switch that routes individual computers to operator workstations. Any operator can select any source computer and control it as though the computer was located only a few metres from their desktop; with no latency, interactive delay on the keyboard and mouse or misleading artefacts on the screen. It is also possible for several operators to view and control the same computer simultaneously – under strict access control to maintain operational integrity.  More information on the capability and application of KVM switches within control rooms can be found in the KVM in Mission-Critical Control Room brochure.
Maintaining System Control and Integrity
System control and integrity is an important consideration when giving operators access to all computers. Operators can also select between sources using simple keyboard commands or through an additional device such as a push button panel or touch screen. The IT system administrator is also able to control switching routes centrally and assign access permissions along with a series of other control parameters that suit just about every practical operational requirement.
Ease of Use
Many workstations are equipped with several screens which would normally require multiple keyboards and mice. A KVM system allows a single keyboard and mouse to control any computer, simply by hovering the mouse over the appropriate screen and interacting with the presented data.
Remote Access
Long distance transmission is achieved using extenders at each end of the links to transmit signals over the CAT or fibre cables. Distances of 140 meters with copper and 10km with fibre cables can be achieved.
3  Effortless Data Flow – An Integrated Solution
Presenting all the combined visual information on the large video wall at the front of a control room and across all operator workstations is essential in ensuring that decision-makers are equipped with the information they need to minimize response times and increase operational efficiency. This can only be achieved with a centralized management platform that is integrated with all the information systems used to provide data to those decision makers.
A workflow diagram of a recommended solution is shown below.
A key element to this infrastructure is the VuWall TRx Centralized Management Platform.  TRx software provides an easy-to-use user interface to fully manage both the content on the video wall and the routing of source computers to the operator workstations. It also provides an intuitive control panel designer tool to quickly and easily create an unlimited number of HTML-based control panels to select between various pre-set screen configurations for the most common operational scenarios and crisis situations.
VuWall and IHSE have developed a complete integration between TRx and the IHSE KVM matrix switches to ensure a seamless visualisation experience. Click here to learn more about this integration.
Conclusion
Control room operators must have instant and reliable access to accurate information at all times even though this information comes from a wide variety of sources delivered in various formats.
In this new era of smart control rooms, unified, integrated and interoperable technology can handle all types of incoming visual information and deliver this information where and when it is needed.
A proven and tested integrated video wall controller and KVM switch solution with a simple-to-use control interface, achieves just that; ensuring operational staff have constant access to information to make the correct decisions, especially at the most critical times.
CASE STUDY EXAMPLE
Sydney Trains Rail Operations Centre
A major new central control room (CCR) was needed to enable train operators to visually monitor and manage over 500 miles of track on the Sydney Trains network.
The Rail Operations Centre (ROC), located within Alexandria NSW in Australia, brings together three separate Sydney Trains divisions under one roof: rail management and two signalling controller divisions. At the front of the control room a custom-made NanoLumens 41-million-pixel LED video wall measuring 106 x 12 feet (32.5m x 3.65m) displays rail network content from over 40 sources, enabling anyone present in the centre to observe the current network status.
Network controller workstations are provided with up to eight monitors to concurrently control remote source devices with a single keyboard and mouse.  A deep level of redundancy ensures that the system is operational 24/7 with no down time that might compromise the safe running of the network.
The entire Rail Operations Centre is managed and controlled with VuWall's VuScape video wall controllers and IHSE's tera Tool user controllers under administrator control to ensure that all operational staff and managers have access to accurate, up-to-the-second, information on workstation monitors and on the large video wall.
The ROC is one of the most sophisticated, data-driven, and ergonomically designed operations control centres in the world. This state-of-the-art deployment sets a new standard for other mega-city transit systems.[/vc_column_text][/vc_column]
Share post: