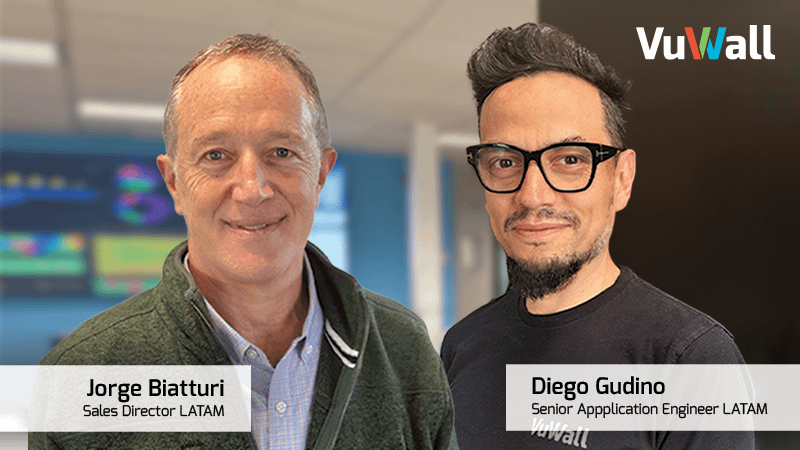 VuWall Strengthens Presence in Latin America with Investment in Local Sales and Engineering Support Team
Share post:
VuWall Appoints Jorge Biatturi as Sales Director and Diego Gudino as Senior Applications Engineer for the Region
MONTREAL — May 10, 2023 — VuWall, a technology leader in video wall control systems and unified visualization solutions, is expanding its presence in Latin America and today announced two new appointments as part of the company's investment in the region. Jorge Biatturi, appointed as Sales Director, and Diego Gudino, promoted to the role of Senior Applications Engineer, will ensure a strong local sales and engineering support team for the growing number of VuWall deployments in the area. Both will report to Eric Hénique, VuWall's Executive Vice President of International Sales
"We have experienced an increased demand in the LATAM region, and these appointments reflect the investment in dedicated local resources to serve the needs of our partners and customers there," said Hénique. "Jorge and Diego bring a vast understanding of ProAV and IT to their roles. With their technical background and knack for building great customer relationships, they'll be vital part of our growth. I am very excited to work closely with them."
Based in Uruguay, Biatturi will help increase market share and brand awareness in his new role. He has been in the AV market for more than 15 years as an integrator and within the ProAV manufacturing community. Most recently, he was the Director of Integration at Vision Direct.
"I have had the pleasure of knowing the VuWall team for over 10 years," said Biatturi. "I have always admired the company's cutting-edge technology, their drive to push boundaries at the forefront of innovation, and most of all, the company culture. This position is an incredible opportunity to expand my reach to a broader range of applications within the AV sector and utilize my skills and experience to succeed in VuWall's mission to help Latin American integrators address control room needs with cutting-edge technology. I couldn't be more excited."
Gudino has more than 20 years of experience in networking, bringing a unique technical expertise in both IT and AV to his role. A dedicated and valued member of the VuWall team for seven years, he has held various technical positions within the company. Gudino is fluent in Spanish, English, and French and possesses exceptional troubleshooting abilities, customer service skills, as well as extensive experience with onsite installations and project deployments in Latin America.
"The horizon of video walls and visualization has and continues to be shaped by VuWall's innovation," said Gudino. "I'm excited to be part of the new team to build out the company's presence in LATAM. In this new role, I look forward to strengthening our customer relationships and helping them design best-in-class video wall deployments using all the features and benefits that have made VuWall a leader in the industry"
Both Jorge and Diego will be attending InfoComm 2023 in Orlando, Florida from June 14-16. To schedule a meeting with them at the VuWall booth 1829, visit vuwall.com/infocomm.
Share post: