VuWall Partners with Samsung Canada to Bring Unique Visualization Solutions to Control Room Environments
Posted on February 18, 2021
Share post:
MONTREAL – February 18, 2021 – VuWall, a global technology leader in video wall control systems and unified visualization solutions, has joined forces with Samsung Electronics Canada to offer solution bundles combining innovative video wall control systems with the latest high-resolution display technology for pristine video wall visualization experiences.
Solution bundles from VuWall and Samsung Canada are optimized for 24/7 mission-critical control room and crisis room environments within security operation centres, traffic surveillance facilities and network operation centres across various sectors from government, military and defence, public safety, transportation and security environments.
The VuWall and Samsung combination provides superb picture quality and visualization experiences from wide variety of sources to any display. The companies bring increased video quality and flexibility with an integrated solution, offering integrators simplicity in the design and deployments of their video wall projects. With VuWall's hybrid approach, customers can mix AV, IP and IT sources on a single controller, customize screen arrangements and sizes, and mix display technology (LED, LCD, etc). The combined solution maintains source-to-glass pixel integrity for dependable video quality.
Control room display solutions from Samsung feature cutting-edge picture quality with superb brightness, contrast and stunning resolution to ensure operators don't miss any important details. With a wide range of display technology, such as direct view LED, video walls and desktop monitors, Samsung helps users create a control room environment that fits their space and budget requirements. In particular, video wall displays offer optimal brightness, high resolution, an immersive curved design, and long-lasting performance in any environment. With extremely narrow bezels (or no bezels), the displays are a versatile solution to create seamless video walls with a large colour gamut, delivering flexible information around the clock in a variety of formats.
"We're excited to collaborate with VuWall and elevate today's control rooms with a truly integrated technology solution," said Mary Peterson, Vice President, IT & Enterprise Solutions, Samsung Electronics Canada. "With over a decade of experience in control room environments, VuWall's state-of-the-art video wall processing solutions bring the reliability and flexibility that our customers expect in order to make timely, critical decisions. Its interoperable and hybrid approach has opened doors for us and is facilitating video wall deployments for our integrators."
VuWall's high-performance VuScape video wall processor provides an easy way to control and distribute a hybrid array of content sources to any display or video wall with flexibility and a full-featured management software. Designed for mission-critical applications and big data visualization, a single VuScape can power up to 96 displays, capture up to 40x 4K sources, mix baseband & IP sources such as IP cameras, websites, RSS feeds, or desktop applications, stream up to 160 HD IP streams simultaneously, display an unlimited number of windows per screen, encode HDMI inputs or an entire 4K video wall, and process 24-bit true colour images at full frame rate.
"We are delighted to partner with an industry-leading display manufacturer like Samsung Canada, which is paving the way in transforming visualization experiences in control rooms," said Paul Vander Plaetse, CEO, VuWall. "Together, we bring integrators peace of mind with a control room-in-a-box solution while end users benefit from easily controlling what they see and when they need to see it, with pristine image quality."
VuWall and Samsung Canada will offer local pre-sales and post-sales support throughout Canada, helping its integrators and customers deploy successful video wall projects, together.
To learn more about the new solution bundles, contact our video wall experts.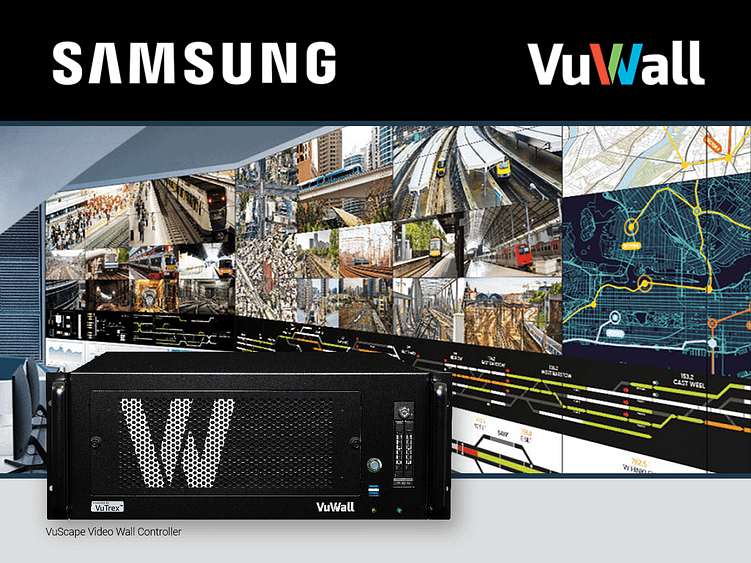 Share post: