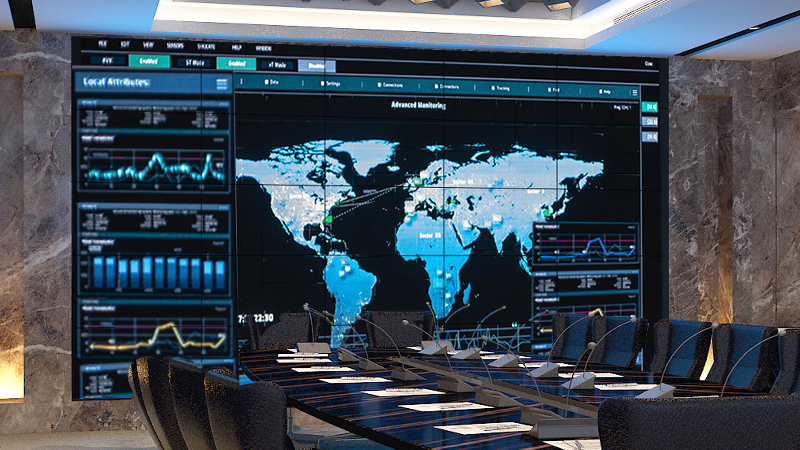 Overcoming Perceived Limitations of Distributed Video Wall Technology
Share post:
Demystifying Distributed Video Wall Technology
The growing popularity of distributed video wall technology is supported by many factors, including the increased demand for large yet cost-effective video walls, the demand for solutions that are flexible and scalable, and the adoption of AV-over-IP technology. Compared to traditional video wall technology, a distributed video wall promotes increased scalability and flexibility. It offers the possibility to integrate multiple networked processing nodes or appliances working together to create a single canvas.
UNIQUE ADVANTAGES of Distributed Video Walls
Distributed video walls provide many unique advantages over traditional video walls that use Windows-based or FPGA-based technology. Let's have a closer look at the main advantages:
Scalability: A traditional video wall is limited in size. It is based on the number of cards or modules that can fit in an enclosure or chassis; meanwhile, a distributed video wall is incredibly scalable – the size is theoretically unlimited. To expand a distributed video wall, simply adding another node for additional outputs or increased processing power is easy, much more feasible and more cost-effective.
Reliability: A hardware failure with traditional video wall controllers will affect an entire video wall and would result in losing visibility of the entire video wall. Fortunately, a hardware failure in a distributed video wall deployment would only affect the portion of the wall powered by the specific node or appliance that failed.
Cost-Effectiveness: The overall cost of a distributed video wall is significantly lower due to reduced hardware requirements. A distributed video wall eliminates bulky hardware and reduces the requirements for cables and extenders since the small form-factor of the nodes allows them to be mounted directly behind the displays instead of being installed in a distant rack. These nodes only need to be connected to power and to the network, which also removes the need for high-resolution video extenders.
PERCEIVED LIMITATIONS of Distributed Video Walls
Despite the advantages of distributed video walls, there are still some perceived limitations, but not to worry, all of these can be overcome with the right solutions. Here are some of the perceived limitations that you DON'T need to worry about:
Configuration and troubleshooting: Since each appliance or node is driving a single display, a distributed video wall results in more devices on a network. When looking for a distributed video wall solution, it is important to consider one that offers easy configuration and troubleshooting tools.
Latency: There is a concern in distributing everything over IP. It requires the content to be encoded, sent over the network, decoded and displayed. With today's technology, it is possible for a distributed video wall solution to reach the same or even better latency than with traditional video wall controllers. It is an important aspect to consider when selecting the right distributed video wall technology.
Interoperability: Typically, manufacturers support one codec or streaming protocol, which means all sources have to be encoded with the same parameters before they can be sent to the video wall. This can be a limiting factor in applications where a high variety of sources with different levels of performance and resolution need to be displayed, such as dashboards, web pages, cameras, KVM stations, etc… Selecting a control software and hardware platform, that is interoperable and can support a variety of protocols and formats, is the key to overcoming this limitation.
Security: Network-based products cause security concerns, primarily if the underlying technology or operating system is known to have vulnerabilities, such as with Windows-based nodes, among others. This is why it is important to consider a solution that is not based on an underlying technology that is susceptible to security vulnerabilities.
Why the movement towards Distributed Video Walls?
The progress of the AV-over-IP transition, the convergence of AV and IT, the affordability of networks, display, and required equipment, and the market demand for more flexibility and interoperability, has created a unique need for a distributed video wall product that addresses and solves all of the challenges and limitations.
Rescued by the PAK!
VuWall's PAK™ video wall & KVM nodes eliminate complicated wiring, a single point of failure, and other challenges by creating a secure, reliable, flexible and efficient networked video wall solution. Recently launched, PAK brings an innovative way to deploy and manage modular video walls in AV-over-IP environments. PAK is a networked multi-decode node that can also efficiently operate as a standalone device. For large displays, PAK can easily be stitched with other nodes to build an IP-based video wall that is infinitely scalable to power a single large single canvas. PAK simplifies video wall integration by reducing the number of endpoints, minimizing project risk and improving reliability. Watch the video below for a detailed 2-minute explanation.
As part of VuWall's ecosystem, PAK is managed by VuWall's award-winning TRx software platform. Together, the award-winning PAK & TRx solutions offer a fast and easy way to build and manage a reliable and flexible video wall system over a distributed network, overcoming all perceived limitations and those of traditional video walls.
Share post: