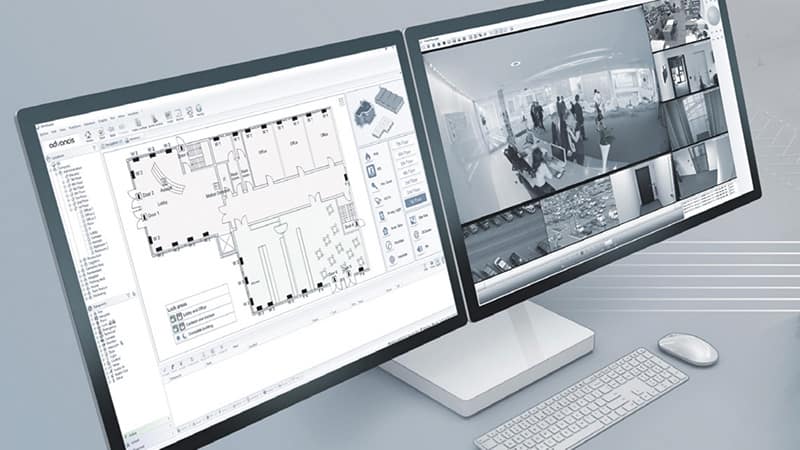 VuWall2 Now Integrated in WinGuard X4 from Advancis
Posted on October 11, 2018
Share post:
Advancis, an international market leader in vendor-neutral Physical Security Information Management (PSIM) Systems, and VuWall, manufacturer of video wall controllers and control room video wall management solutions, have strengthened their partnership for surveillance, security and building management solutions in control rooms.
To provide their customers with a comprehensive solution, VuWall and Advancis have fully integrated the VuWall2 Video Wall Management Software in the software platform WinGuard X4. WinGuard provides a centralized PSIM solution and converts the complex task of ensuring corporate security into manageable, efficient and controllable processes.
With its open system architecture especially for heterogeneous environments, WinGuard is the state-of-the-art solution for this task. It integrates and links security, building automation and communication systems from different manufacturers so that these can be controlled via a unified, user-friendly interface.
Video wall management software VuWall2 is a tool for controlling video walls, graphics controllers and related sources. Due to its open architecture, it was possible to integrate various functions for controlling a video wall into the WinGuard software. This allows the operators to easily control the video wall system, and therefore integration does not require a time-consuming implementation but can simply be realized by trained users.
The display and wall management software such as VuWall's VuWall2 software which provides a complete API for integration with other systems is unique. Main advantages of this integration are an increased situational awareness due to the joint WinGuard image on the video walls and displays operated by VuWall as well as reduced reaction times thanks to the easy control of perspectives by the PSIM system WinGuard. The integration of WinGuard and VuWall2 has already been successfully showcased at this year's Security exhibition in Essen.
About Advancis
More than 20 years of experience, over 1,400 realized installations in different application sectors, worldwide representations and numerous certified integration partners make Advancis one of the international market leaders in vendor-neutral PSIM (Physical Security Information Management). Founded in 1994 as a regional software manufacturer, the company pioneered with regard to cross-domain security management. From the very beginning, vendor-neutrality has been the decisive advantage of the WinGuard system, as the total security, building, communication and IT infrastructure can be integrated in WinGuard. The user in the control center is enabled to detect all situations in the surveilled building or perimeter in an optimal way, being efficiently supported in event processing by WinGuard. The user profits from a unified and intuitive operation of a wide variety of different systems. In addition, WinGuard offers program-guided instructions for event processing – for a quick and secure management of the situation.
For more info visit: www.advancis.net
Share post: