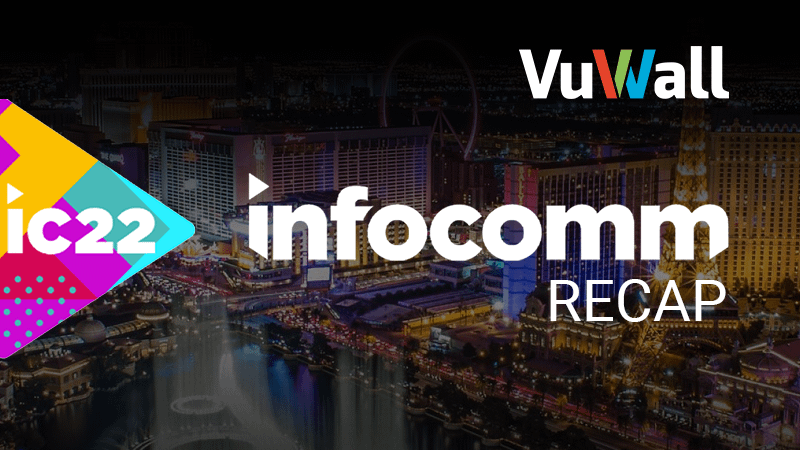 InfoComm 2022 Recap
Share post:
It was so great to be back on the show floor in what felt like "normal times". There's nothing like reconnecting with partners, customers, and industry friends in person. And although general attendance was about half of 2019, it sure didn't feel like it. We are grateful to all the visitors and the attention that we got from our recent product launches and look forward to a very busy summer.

INFOCOMM 2022 – TOP 3 SHOW HIGHLIGHTS
1. New Tech
We demonstrated the new PAK video wall node that had been launched at ISE, just 3 weeks before InfoComm, and I'm happy to say that the response was great! Our development strategy, that has been a few years in the making, was built upon our customers' needs, in the goal of resolving their pain points in deploying and operating video wall projects, especially in AV-over-IP environments. At InfoComm, both end users and integrators were really impressed. We were expecting some early adopters, but it turns out that everybody is really excited about the product and what it can do. The market is definitely ready for this technology!
The combination of PAK and TRx are really grabbing attention. We've combined a modular distributed video wall appliance with a video wall management software that includes AV distribution capabilities and a built-in control panel designer, all from a single drag-and-drop user interface. This combination brings a level of scalability, interoperability and ease of use that has not been seen before and was extremely well received at InfoComm.
With video wall projects on the rise in just about every industry, integrators and end users need something that's easy to deploy, easy to use and seamlessly integrates with their existing infrastructure, but that can also scale easily as their needs evolve.
Our Goal?  Develop powerful, interoperable tools that facilitate the installation and operation of all IP devices and applications from one easy-to-use centralized platform. 
In summary, our booth at InfoComm had 2 major technology focuses:
FOCUS #1 – DISTRIBUTED VIDEO WALL TECHNOLOGY WITH PAK
The demand for multi-source, multi-video wall deployments is at an all-time high and continues to accelerate. The progress of AV-over-IP technology, the convergence of AV and IT, the affordability of networks, displays, and the market demand for more flexibility and interoperability, have created a unique need for a distributed video wall solution. We have addressed this market demand with the introduction of the PAK video wall node, which is used to deploy modular video walls in AV-over-IP environments. PAK eliminates complicated wiring, a single point of failure and addresses many other past challenges by creating the most efficient networked video wall solution. In line with our vision to simplify video wall integration and operation, PAK also brings versatility, scalability, and security.  Learn more.
FOCUS #2 – INTEROPERABLE & CENTRALIZED VIDEO WALL MANAGEMENT & AV DISTRIBUTION
On day 1 of InfoComm, we announced the latest TRx 3.2 release – Read Press Release. TRx has been around for some time, but never before with such an extensive set of features, enhanced performance, usability and interoperability. This version also features a new plug-in to Genetec™ Security Center for a seamlessly integrated solution that allows operators to visualize IP cameras on video walls with other content sources from a single easy-to-use platform. Learn more.
2. 

Connecting over Cockta

ils
There's nothing like a little "off the show floor" conversation with industry friends. I love seeing all our partners and customers gathering, sharing stories, and taking a load off after a long day. We hosted over 100 people at the Westgate Hotel International Bar, which was just steps away from the convention center. With the event being such a hit, there's a good chance we'll be back there in 2024. Big thank you to all those who made it!

3. PAK for the WIN
On the last day of the show, day 3, we got word that PAK won "Best of Show" award at InfoComm, recognized by Sound & Video Contractor, confirming the evolutionary benefits of the networked, multi-decoding device. What a great way to finish the week! The judging panel included CTS-certified technology managers, integrators, and consultants who evaluated the PAK during the show. PAK was previously honored as a Best of Show Winner at ISE 2022 by AV Technology magazine. Read Press Release.

What's Next

?
Looking forward, we will continue to focus on facilitating interoperability in the AV industry. TRx is already supporting SDVoE, IHSE, Matrox, NDI-compatible devices, and many other 3rd party devices, and the list will continue to grow with every release. Organizations should not be expected to use different software to manage their pool of IP equipment. As this pool grows, and it will, TRx offers them a single software platform to control their entire multi-brand AV infrastructure.
Our next major event will be GSX, the Global Security Exchange, held September 12-14 in Atlanta, Georgia. Of course, we'll be back at ISE in Barcelona and Distributech in San Diego in January, and InfoComm 2023 in Orlando. Visit our events page for a complete list of events.
GET A DEMO!
Did you miss InfoComm this year? Or did you miss the VuWall booth at InfoComm this year? That's ok. We do great demos online or, if you prefer, we are welcoming visitors at our Canadian and German Experience Centers, located in Montreal and Stuttgart. To request a demo, click here.
Share post: