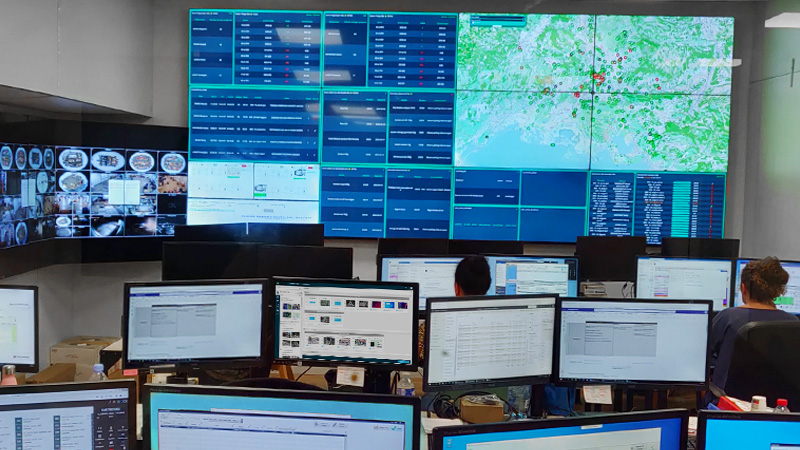 Increasing Productivity in Transportation & Logistics Organizations with Video Wall Technology
Share post:
Centralized Video Wall Management for Coordination and Operation Centers
Video walls are increasingly being used in coordination and operation centers to improve productivity. These large displays allow users to visualize multiple sources of information simultaneously, enabling quicker and more informed decision-making. 
One common use case of organizations using video walls to improve productivity in logistics company. They utilize a video wall to display real-time data on shipments, warehouse inventory, security cameras, and other key metrics, including weather forecasts and waiting times at customs, for example. The ability to see many sources of important information at a glance enable the employees in the operations center to coordinate their efforts more effectively and respond to any issues or changes in a timely manner. 
CASE STUDY | FRANCE
A concrete example is a fruit and vegetable distribution company in the south of France called Salade2Fruits. This company specializes in procuring products from local producers and delivering them to local restaurants and communities. This operation involves a wide variety of small orders and a large number of small producers. The company started by deploying their first video wall in their main office. After a few months of operation, they found a significant improvement in productivity, resulting in happier customers and employees. Thanks to the success of their first video wall installation, they invested in a second video wall for their secondary distribution center. Today, the main control room displays dashboards for navigation, lists of orders and preparations, a visual of surveillance cameras throughout facilities, movements in the warehouse, and analytics on network operations. The facility operates 16 hours per day and heavily relies on both video walls as their European presence continues to grow.
"These video walls have significantly increased our productivity. Everything happens so much faster. We can now access the data and information that we need. It's a solution that we couldn't go without anymore."
MAX BRUNET, MARKETING DIRECTOR AT SALADE2FRUITS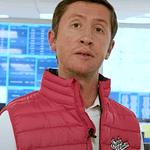 SAVE TIME, REDUCE STRESS, IMPROVE PRODUCTIVITY
Setting up an operation center with a video wall can be intimidating, which is why many smaller centers limit themselves to providing each operator with a simple computer, where each operator has their own specialty whether it be order processing, vehicle fleet management, or driver schedules. However, as the complexity of the operation increases, it becomes more difficult for each operator to manage and monitor all the information they need to make informed decisions. For example, if the fleet manager needs to return a vehicle to the garage, he needs to know from the driver scheduler when he can expect the vehicle to be back. This is easy when managing a single truck, but as soon as the fleet manager needs to prioritize multiple drivers and their schedules, the decision-making process becomes much more complex. In this case, if all operators can share their respective priorities on a large common video wall, where it can be used as a large dashboard, they become much more efficient. Video wall technology can result in huge time savings in the decision-making process, reduces stress, and improves productivity. 
SELECTING THE RIGHT TECHNOLOGY
Every operation center has its own processes, and those processes need to be adjusted as the business evolves. When selecting a video wall solution for an operation center, it is important to look for a solution where:
Different operation scenarios can be easily reconfigured without the need for a specialist to reprogram them. A team supervisor should be able to adjust the display scenarios on the video wall without having to write a single line of code or follow complex training.

The video wall management system should be intuitive to use and configure.

 
One such solution is VuWall's TRx software, a video wall management platform that allows users to easily create their own visualization layouts through drag-and-drop and recall them with the click of a mouse. This software also includes a control panel designer that allows supervisors to easily create personalized control panels for each operator without having to write any code. With TRx, video walls have become very affordable for small and medium-sized control rooms and offer all the capabilities required by the biggest and most mission-critical control rooms. 
THE BOTTOM LINE
In summary, the use of a video wall in coordination and operation centers can greatly improve productivity by providing a centralized location for the display of important information and facilitating better communication and collaboration among team members. Whether it's a logistics company, a fruit and vegetable distribution company, or an emergency response center, the use of a video wall helps organizations make quicker and more informed decisions, leading to improved efficiency and productivity.
Share post: