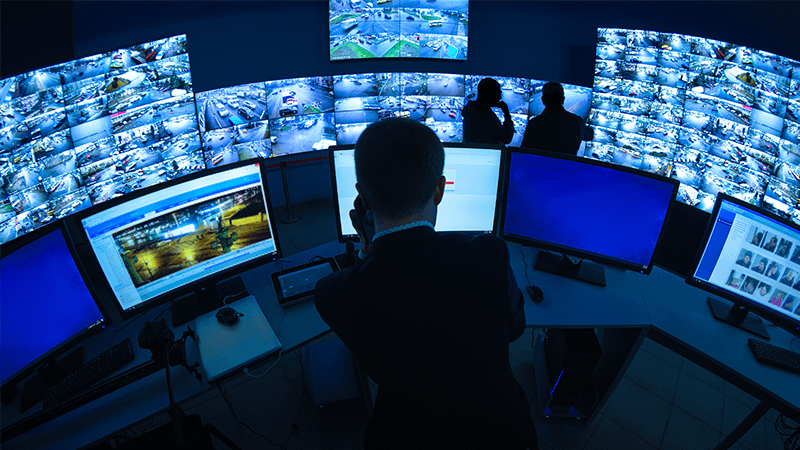 Improving Processes and Efficiencies in Control Rooms
Posted on September 28, 2022
Share post:
How Interoperable and Modular Video Wall Technology Improves Processes and Efficiencies in Security Monitoring Operation Centers and Control Rooms
In a volatile and interconnected world where cybersecurity is increasingly coming under attack with more sophisticated methods, it is imperative that organizations scrupulously monitor information streams and make informed decisions that are vital to the safety and security of the organization. Whether it is Homeland Security, airport and transit security, computer and data security, or other essential applications, video wall technology gives stakeholders critical information on a single display surface be it from single or multiple sources such as cameras, maps, operators, computers, or dashboards. This common operational picture is at the heart of a timely and comprehensive response.
However, despite advances in technology, there are significant challenges in monitoring control room environments. These include a constant data flow from disparate sources and and networks as well as working with a VMS (Video Management System) like Genetec and Milestone. There is also the issue of managing different software applications. In summary, the biggest challenge of all is managing all the data coming from different systems efficiently while ensuring users see what they need to see when they need to see it without compromising the data.
THE CHALLENGE in Security Operation Centers
Video walls are among the most expensive and complex AV systems to design and integrate since they require specialized hardware and software to enable the system to effectively work together. However, the lack of interoperability among the various systems does not provide users with a seamless experience. Traditional video wall controllers are custom-built and not scalable on-site and meant for passive environments like lobbies and boardrooms. These controllers also represent a single point of failure; requiring them to be deployed in an expensive, redundant setup. Until recently, this was the only technology available for reliable and high-performance video wall control. While this technology is still sufficient for some control room applications, it is no longer the most cost-effective, the reliable, versatile, or future-proof solution.
Security Operation Centres (SOC) typically utilize a software-based video management solution (VMS) to manage the security infrastructure. The VMS is the primary tool operators use daily and, although optimized for desktop work at the operator station, it is not designed to manage content on video walls where operators need to share information with colleagues in the SOC. The video wall is also used to show general information valuable to all operators that is not part of the VMS – such as social media feeds, weather information, cable TV, and maps.
The video wall in a control room is typically managed through a separate software application, meaning operators are switching between their VMS and the video wall management system, which is cumbersome and time consuming. The result is a labor intensive, non-intuitive solution requiring complex management and increased decision-making time which impacts operations and response time.
SIMPLIFYING WORKFLOWS with a Centralized Platform
VuWall eliminates the traditional restrictions to video wall management in control rooms with its TRx centralized management platform. TRx configures, manages, and distributes virtually any source type to any display with easy drag-and-drop and no upfront or ongoing programming.
Simplifying workflows in control centers with a single platform to control and manage all devices, brings simplicity, flexibility, interoperability, and scalability to AV deployments
Speaking directly to operator efficiency, TRx features an integrated plug-in allowing security center operators to manage video walls directly from within their security interface (VMS), whether they are using Genetec Security Desk or Milestone XProtect.  This plug-in ensures TRx functionality within the already-familiar Genetec or Milestone interface, allowing operators to control content without needing to switch applications. The plug-in allows operators not only to visualize the IP camera sources, but at the same time, all other IP content, control data, HDMI, and local applications. Operators can easily display and control layouts from any content source onto their video walls. They have the flexibility to utilize VuWall's preprogrammed layouts or create custom layouts specific to their needs. With VuWall's TRx centralized management platform, control room operators have complete command and control over the video and the content can be displayed on the video wall to provide a complete, end-to-end networked solution.
UNLOCKING Scalability and Interoperability
The introduction of video over IP simplifies delivery of video content across a network; enabling users to seamlessly visualize real-time video and audio on any display. Specifically for video walls, networked video distribution facilitates reliable video distribution and seamless content management to create a simplified and flexible user experience. IP-based network protocols enable users to distribute high-quality, low-latency video and audio content over standard networks in real-time.
Some video wall over IP solutions are scalable, modular, and interoperable with third-party technology and applications. A modular architecture seamlessly supports future deployments and promotes better redundancy. Additionally, IP-based video wall technology can eliminate familiar challenges of interoperability with existing infrastructure. The recent progress in AV-over-IP technology is transforming methods for content distribution by creating cost-effective, future-proof solutions.
VuWall's TRx solution features an open architecture to easily support third-party technology, creating a scalable, interoperable, and future-proof solution where users can access various application components to streamline and simplify their workflows. Control room operators need a solution that supports quick reaction, especially in emergencies as environments transition from monitoring to the response. VuWall's TRx simplifies the deployment of complex AV-over-IP projects, reducing risk and on-site deployment time.
PAK REDEFINES Video Walls in Control Rooms – Changing the game
VuWall's PAK™ video wall & KVM nodes eliminate complicated wiring, a single point of failure, and other challenges by creating a secure, reliable, flexible, and efficient networked video wall solution. PAK brings an innovative way to deploy and manage modular video walls in AV-over-IP environments. PAK is a networked multi-decode node that can also efficiently operate as a standalone device. For large displays, PAK can easily be stitched with other nodes to build operator stations and IP-based video walls that are infinitely scalable. PAK simplifies video wall integration by reducing the number of endpoints, minimizing project risk, and improving reliability.
As part of VuWall's ecosystem, PAK is managed by VuWall's award-winning TRx software platform. Together, the award-winning PAK and TRx solutions offer a fast and straightforward way to build and manage a reliable and flexible video wall system over a distributed network, overcoming all perceived limitations and those of traditional video walls. Watch the video below for a detailed 2-minute explanation.
Learn more about optimizing your security monitoring environment. Speak to a video wall expert at VuWall today or better yet, get a demo and see how it works.
Share post: