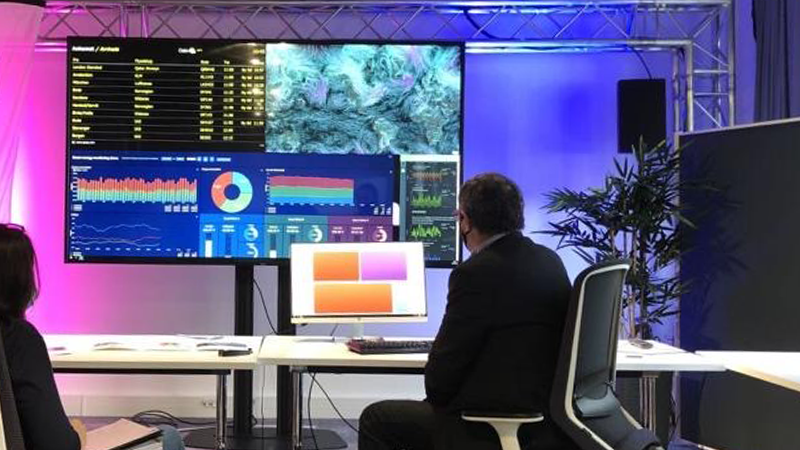 6 Major Benefits of Using a Video Wall and How They Work
Share post:
Video walls consist of multiple monitors tiled together to form one large screen. In today's interconnected world, video wall technology has made a significant impact on all companies, no matter the industry. It is the ideal tool to convey information used in a wide range of environments from corporate workspaces to lobby signage, public spaces, classrooms, auditoriums and mission-critical control rooms.
Many big brands and Fortune 500 companies have recognized the importance of video walls, and as video walls are becoming more affordable and scalable, many smaller organizations have also jumped on board, realizing how this technology can help them be more productive and increase their brand visibility.
Benefits of Using a Video Wall and How They Work
Here are 6 benefits that a video wall can bring to your organization:
1. Internal & External Communications
Every corporate workspace, control room or public space has a ton of data and information that needs to be conveyed to either employees, audiences or customers in order to grab their attention or trigger a reaction. "One image is worth a thousand words": video walls help share information visually in real-time with high impact. With the large number of pixels available, they allow to combine information coming from different sources and in different formats.
For example:
Airports use video walls to display flight schedules but also advertisements and emergency messaging in case of evacuations
Corporate Lobbies or Breakrooms may want to include daily company announcements, key performance dashboards, their Twitter RSS feed, a welcome message for an important guest and perhaps some corporate messaging or advertising.
Corporations and Universities use video walls in collaboration rooms, training/classrooms and visualization suites. They may require the use of third-party collaboration or training software.
Emergency Centers use video walls to provide operators with critical information helping them respond quickly and accurately to complex emergency situations.
Security and Transportation Monitoring Centers may need access to IP cameras and interact with video management systems.
Whatever the specific needs are, video walls accompanied by the right video wall controller can accomplish any of the scenarios above and are only limited by your imagination or ingenuity.

Example: Sydney Rails Operations Center  READ COMPLETE CASE STUDY
2. Easy Configuration and Control
Not all advanced technology has to be complex.  Video wall controllers simplify the configuration and operation of video walls, giving users absolute control of what they want to display, where and how on the video wall; offering a completely customizable experience without any programming knowledge. Video wall processors are available for all types of video walls, and some even offer a software platform to manage content distribution throughout several video walls within an organization, a facility or even a multi-site organization, all from a single centralized platform.
Collaborating with a content creation agency may further enhance the visualization experience that you are trying to create, making the most of your video wall investment.
Watch this 90 second video below to see how easy it can be to manage all your sources, your displays and the distribution of all your content!
3. Interactivity
Consumers expect intelligent, engaging interactions from companies in today's technological era. As such, employees expect the same from their employers.
With video walls, you can engage consumers and employees with incredible graphics, but touch screens bring a whole other level of engagement where graphics and/or information is triggered upon the touch of the screen or a portion of the screen.

4. Reliability & First Impressions
"You never get a second chance to make a great first impression" Have you stepped into a company and noticed "the blue screen of death" on their displays? Or that the video wall was malfunctioning or just off? Typically, such an incident is likely due to the inadequacy of the video wall processor powering the video wall.
Aside from the bad impression that a malfunctioning video wall may cause, more importantly, in an emergency center or a security monitoring facility, a malfunctioning video wall can be catastrophic. While investing in a video wall, it's worth investing in a cutting-edge video wall processor to maximize your investment. The right video wall processor will not only provide reliability and security, it will also provide increased performance and usability.
5. Multi-Source Visualization
Often, a video wall is used to display content from multiple sources at once. If you need to display video streams from many channels and in various formats on your video wall at once, you'll need a video wall processor, preferably an interoperable one that can process any content source format and display it on any display type. Some video wall processors have format limitations or are limited to one type of display (LCD, LED, projector) per processor, whereas other more advanced ones are agnostic to source types and displays.

6. Increased Flexibility, Scalability and Creativity
Deploying a video wall allows ever-changing content such as promotions, graphics, news, dashboards and any other information, to be easily managed, changed and controlled. Video walls can grow in size, without having to replace displays, but simply by adding more units to increase your canvas size. The right video wall processor can be upgraded on-site to handle more displays without having to completely replace your processor. With the ability to process any type of content from various apps and display sources in any configuration, size, or aspect ratio, content creators and administrators have the creative capacity to do virtually anything they want and easily change layouts and graphics as often as they want with the touch of a button.
Video walls give companies remarkable versatility in their operations. Consider the above-mentioned benefits and incorporate a video wall in your organization to enhance your brand image and increase  productivity.
Have a look at how at the video below: VuWall's TRx bring flexibility and scalability to video wall projects.
Reach out for help with your video wall project!
VuWall is a leader of video wall control systems recognized worldwide for delivering state-of-the-art video wall controllers, encoders and decoders, all managed by a central control platform.  Our visualization solutions are deployed in a wide range of industries including corporate, utilities, transportation, government & defense, security, oil & gas, banking, and education. We provide a team of highly skilled professionals who can assist you with any visualization needs. We are ready to help. Contact us anytime or request a demo today!
Share post: