5 Winning Characteristics That Will Simplify Complex AV-over-IP Deployments
Share post:
It all starts from the ground up. Selecting the right building blocks for your next video wall project is the first step to a successful AV-over-IP deployment. We recently held a joint webinar with John Henkle and Laurent Masia from NETGEAR, called "Selecting the Right Building Blocks to Simplify Complex AV-over-IP Deployments". We also issued a press release together entitled "NETGEAR and VuWall Partner to Enable Next-Generation Video Wall Deployments", which sheds light on the most important aspects required for successful and worry-free AV-over-IP deployments. Our partnership with NETGEAR primarily benefits IT and AV professionals who design and install video walls and audio-visual equipment.
Reducing project risk and deployment time with a scalable, hybrid and interoperable approach
The joint press release highlights NETGEAR's recent certification of VuWall's video wall control systems, namely the VuScape line of video wall controllers, VuStream encoders and decoders, and TRx centralized management platform with NETGEAR's M4250 and M4300 line of AV switches. Together, we ensure interoperability between all the different devices that share the same network, enabling multiple brands to work together harmoniously. Organizations struggle with the plethora of technology on the market, trying to make it all work together. Selecting the right interoperable technology that can support any AV and IT infrastructure will simplify deployments thus reducing project risk and deployment time.
Our partnership with NETGEAR is accelerating the AV-over-IP transition in the Professional Audio Visual market by simplifying deployments and eliminating complexity, especially in mission-critical control rooms, crisis management centers, government agencies and corporate AV environments.
Together, we provide the ideal combination of software and hardware to facilitate network configuration, source management and content distribution across multi-displays and video walls in an AV-over-IP network. Managing AV-over-IP networks that typically carry large amounts of data traffic is a known industry challenge. VuWall and NETGEAR are simplifying the configuration and control of the various AV devices and the routing of AV signals originating from a multitude of sources, in different source formats, to multiple displays throughout an organization.
Overcoming the AV over IP Challenges with 5 Winning Characteristics
The transition from traditional AV distribution methods is accelerating. Who's going AV over IP? Just about everyone in just about every industry from sports stadiums, entertainment venues, and education facilities to surgical control rooms, corporate and retail signage – all of these are considered applications for Pro AV. But this transition does not come without its challenges.
The Challenges
After getting feedback from so many of our customers, we've been able to categorize their challenges into 4 main categories:
Network Configuration & Existing Standards
The Unknown
Various Brands and Formats
Latency
Are you identifying with any of these yet? Some of these on the network side, some on the control side and some, that we don't yet know about. There are always surprises in the field. Things happen that are not always predictable. This is why it is so important to start building your project with the right pieces for the get-go.
The Solution – The 5 Key Elements
The solution that addresses all of these challenges must have all of the following characteristics:
Hybrid: Technology that supports AV, IP and IT systems.
Flexible, Central Unified Platform: Manage all your sources, displays and routing from a single, user interface.
No Programming: A solution that can configure devices, send any source to any display and can create customer control panels, all with easy drag-and drop operations.
Interoperable – Open Architecture – Scalable: Avoid proprietary technology to manage your AV distribution and video wall control. An interoperable solution will allow you to work with your existing legacy systems and scale with new technology that may not even be out on the market yet.
Dedicated to AV over IP: Select a solution that is specifically designed for AV-over-IP applications and offers dedicated pre-sales and post-sales support.
Sounds impossible? It's not. It does exist and it's called TRx. TRx is powered by the unique hybrid technology, VuTrex, making it the only single platform for AV distribution and video wall management. Watch this 90 second video and learn the power of VuTrex and how it works.

[/vc_column_text][/vc_column][/vc_row]
Selecting the Right Building Blocks to Simplify Complex AV-over-IP Deployments
Learn more on how you can reduce project risk and deployment time, while increasing operational efficiency with a scalable and interoperable approach by watching our webinar with NETGEAR. It includes a live video wall management demo, an on-screen network switch configuration, a use case design and a round table discussion with live Q&A presented by the most season AV and IT experts. The webinar will guide you on how to design a worry-free AV-over-IP project. It's easier than you think! Request your free access to this one hour session here: vuwall.com/netgear-webinar-vod/

A Sneak-Peak into the Webinar Demo
Here's the actual workflow set up of the demo that you will see in the webinar. Notice the flexibility! Any source to any display. Blend AV, IT and IP sources. Control KVM computers and switches. Manage remote video walls and multiple video walls. All from a single platform.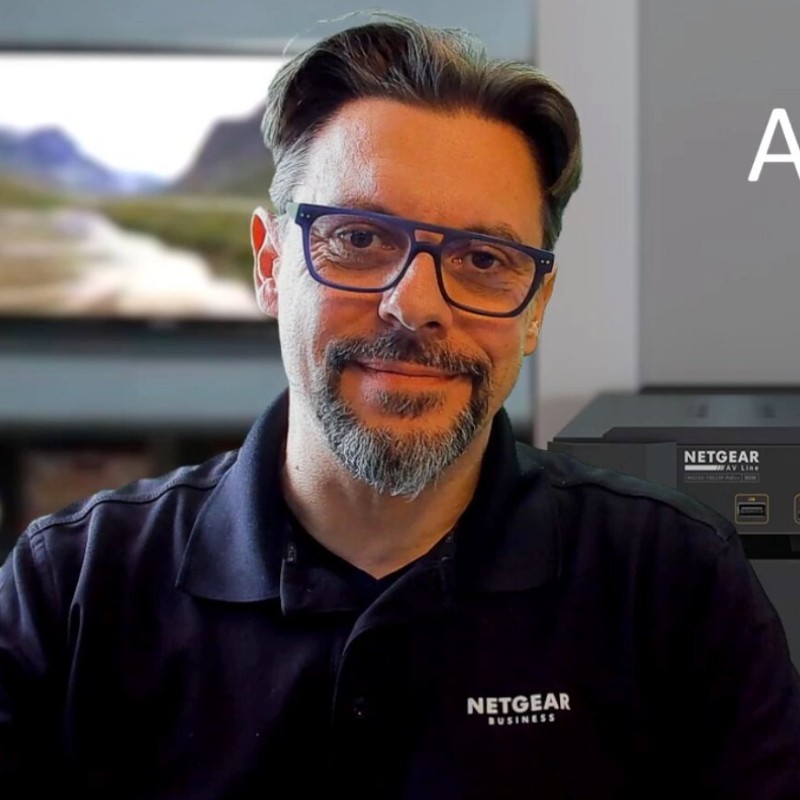 "VuWall and NETGEAR bring simplicity and modularity that the market is seeking, while leveraging the latest technology developments in graphics, video processing, and IP-based AV networking," said Laurent Masia, Director, Managed Switches and ProAV Engineering Services at NETGEAR. "… and we are both committed to educating and providing the integrator community with project design support."
"Investing in integration and extensive interoperability testing helps our customers deliver projects on schedule and within budget," said Paul Vander Plaetse, founder and CEO at VuWall. "Like many others, we are leveraging the flexibility of AV over IP for performance and flexibility, but have gone the extra mile to develop solutions that are focused on the simplification and usability of today's AV over IP infrastructure."
Reach out for help with your video wall project!
VuWall and NETGEAR both offer project design services to help integrators and consultants design projects right the first time. Our teams of video wall and networking experts are always here to help. Contact us anytime or request a demo today!
Share post: